Chapter 2: Tools
One can write a book on watchmaking tools! Actually I have seen such a book a few years ago, published somewhere in late 1890s. This was one of the most exciting horological books I've ever seen! The range of tools, beautiful drawings, ingenuity of makers - mesmerizing!
Unfortunately one of the main limiting factors in our DIY project is a self-imposed budget of $200 so we need to be careful not to overindulge on fine Swiss stuff.
Yes, while we are working on a Japanese watch, we will be using tools manufactured from all over the world! How exciting :-)
The list provided below contains only essential tools required for disassembling and assembling a watch which is already in a reasonably good working order, as per our DIY project requirements. Source: eBay.
Of course, if you prefer to buy better quality tools or avoid online dealings, then I can recommend two shops in Sydney:
Seivers Australia
(02) 9279 1755
2/93 York Street, Sydney NSW 2000
Smith and Smith
(02) 9290 2922
1/36 York St., Sydney NSW 2000
---
UPDATE
Labanda
(07) 3876 7481
sales@labanda.com.au
Since the time of publishing this chapter, Labanda watch spare parts supplier from Brisbane offered their assistance and put together a kit containing the tools we will need for this DIY project. The kit is called DIY2011 and you can view it in detail with this pdf file (to download: right click + save link as). Just as a disclaimer, we are not getting any financial benefit from this kit. (Actually, even the kit I evaluated, I also bought for myself.) But I do think it will be helpful for those living in Australia who might want to order everything in one go and receive their tools in one parcel. And they also matched the prices on eBay, totalling A$97.40 including GST and free delivery.

---
Now before we go any further, here is a piece of advice which will make your dealings easier.
A few years ago there were half a dozen watch material houses in Sydney. Today, only two - mentioned above - are still in business. The watch repair side of the business has been taken over by manufacturers and independent watchmakers were almost completely wiped out. Without watchmakers to serve, watch suppliers went out of business too.
Once gone, suppliers were gone forever. 60 or more years of accumulated stocks of spare parts was gone, liquidated or stored who knows where.
To say that suppliers are PRICELESS to the watch trade is definitely an understatement. They are essential!
Therefore the last thing I want to do is to recommend their service to outsiders who are going to treat them disrespectfully or would waste their time. These guys want your business - any business! - but the door will be slammed in your face unless you know how to deal with them. "I would like a wheel that engages with the big one for my Seiko" is not what they want to hear. Most likely they will tell you: we don't have it - and if they do so, consider yourself lucky! The last thing you want is to find that you've bought the wrong part.
It is NOT their job to educate you how to order spare parts or how to buy tools- this is MY job! So just follow my instructions and you'll be perfectly fine.
The range of merchandise they sell is wide- from inexpensive Asian-made entry level stuff to very expensive Swiss made equipment. Since we need the first lot (with some exceptions) there is no need to visit them to buy a $2 tool.
I really want to hammer this down so please take is seriously. You should NEVER take liberty to compare their prices with eBay prices. "I can get this cheaper on eBay" is an extremely rude remark. Why? Of course you can get the stuff cheaper on eBay but the insider information that you will need cannot be bought on eBay - and that is one major difference! Also in order to stay in business, local suppliers MUST charge more. If you don't get it, then don't go there. Some of the employees are highly experienced and trained, most of them are actually watchmakers who spent many years behind the bench and if you approach them right way, they could be your PRICELESS asset.
If you are still in doubt, watch this video here
For the time being, just stick with the eBay tools. But you will have to go there eventually because some of the chemicals, oils and lubricants are hard to find online. Not to mention more serious stuff like parts for vintage watch movements or Swiss brands. The essential tool list
In order to assist you with the shopping, during the past 24 hours I've placed orders from various eBay suppliers for the tools I would recommend. Note: While I have not received any of the tools yet and cannot vouch for neither the merchant, merchandise or delivery time, I am very confident to recommend some of these particular tools because I already have them in my workshop. Again, you can pick different sellers but I prefer to "Buy it now" rather than to bid. I have to say that in some cases I was really surprised at how affordable they are!
Here is the list of those tools I bought on eBay for this project.
1. Watch hands remover

2. Case back opener
3. Watch case holder (case, not movement!)
4. Watch movement holder, a pair of 2
5. Watchmakers knife
6. Dust blower
7. Rodico Bergeon ('the gum')
8. Pin vice
9. Set of loupes
Note: A quality loupe or eye glass is a MUST. I have to admit this particular order is a bit of a gamble. If you can wait, please do so and I'll let you know how good these are. Standard magnification is 5x (or five times) This set contains 3 loupes with magnification of 2x,5x, and 10x. Higher magnification is NOT recommended.

Now, the eyeglass is held by your face muscles (do NOT push it into your eye socket - it's held between top muscle of your cheek and bottom of the muscle underneath eyebrow - not the eye socket bone!!!) And you will have to learn how to hold it with your open eye. It is a fun practice. There are other models available - with a clip to clip on the glasses or with head band etc. But for the sake of this particular DIY I would really appreciate if you make a bit of an effort and learn how to "wear" the eye glass as watchmakers do! Tip: take it to work and practice - but not on the bus to work :-) You can do it! My assistant Margarett got it right in less than 30 seconds (She did drop the eyeglass 3 times, but then it just stood there, effortlessly! And she has never done this before). I will include a couple of photos of how it's done later.
10. Tweezers - buy two
IMPORTANT NOTE: good tweezers are essential. They come in a variety of shapes, sizes, material, makers etc. Do not experiment here, go for the one I've ordered. Size: #3, NON MAGNETIC, fine tip, straight. Buy two identical tweezers! You will use one for general work and the other for fine work. While most suppliers would recommend to go for two different size of the tip instead, this would be a mistake. A finer tip than #3 is not recommended for a novice either.

Now, if you do wish to spend more on good quality tweezers, then look for DUMONT brand, Inox #3. For about $25 a piece, this is a really fine and long lasting tool. You cannot have too many of them - I have probably 30 in my workshop and that is definitely not too many :-)

A good watchmaker would NEVER allow anyone to touch his tweezers! This is a very intimate tool which defines the quality of your workmanship. Keep them away from magnets, and never drop them because that would result in permanent damage.

We will talk more about tweezers later.
11. Set of watchmaker's screwdrivers
This was the most difficult decision - to go for a set of 'average' quality or to splash on Bergeon. If I would not fell guilty for spending your money, I would say go Bergeon but that is $200-$300 just for a set of screwdrivers. However, the screwdrivers are your most essential tool - even more so than tweezers! A slip of the blade can cause serious damage which could cost hundreds of dollars to fix! Luckily blades are replaceable but you will still need to learn how to sharpen them and shape them as well - each and every screw requires a very defined shape to be tightened properly. Again, more about screwdrivers later. And don't even think about buying anything cheaper then the set listed above.

Another alternative is to buy just 3 or 4 individual Bergeon screwdrivers. Go for size 80, 100, 120 and 140 which totals to around $100. Still a compromise!
So now we have reached yet another crossroads.
Based on your feedback, about half of you are going to order a new watch and work/learn on a piece in good running order. Another half is eager to learn a bit more and get straight into basic repairs. Either is fine, but the path you chose will determine which tools are required.
For the first group (new 7S26) the above mentioned tools are all you need for disassembly and assembly.
However, the second group (still 7S26, but pre-owned) will need to invest more on lubricants, oilers, cleaning solution, a pair of players, cutters, a set of files and a simple crystal press.
I intend to cover those additional repair tools in Chapter 3.
From then on, the sky is the limit: good cleaning machine, timing machine, ultrasonic cleaner, good case opener, press, a water pressure tester, demagnetizer, more tweezers, more screwdrivers and even more specific tools. This is where the fun really begins :-) But we'll leave this for maybe the next course.
Finally a word of warning: it is very tempting to buy a "watchmaker's tools set" - no doubt you've seen such sets online already. My advice is: DON'T EVEN THINK ABOUT IT! Like with any other tool sets, you will be buying stuff you don't really need and the tools you do need will be of very inferior quality. The worst - you will still have to buy the rest of the tools somewhere else... Waste of time and waste of money!
It has been now 24 hours since I've placed my orders and I've already gotten shipping confirmation on most of the tools! I really don't know why - but I am very excited :-)
Now there is one more thing: If you have a kid or grandchild age 6-12 please get him/her involved in your DIY watch project! Show him what you are going to do, get online together to order the tools - and the watch - if you haven't ordered one yet! You will be receiving a dozen or so small parcels and it will be like Christmas in the middle of summer. Kids love technical stuff - do not underestimate them. This DIY project will be a great opportunity to educate them on horology, but most importantly when they see you excited about your hobby, they'll get excited about what they do. Excitement is always contagious! Life is short. Memories like this are something they will remember and cherish for a longtime after we are all gone. (My dad was able to pull his watch apart! WOW! Do you really KNOW how big this is for a 7 year old?? )
Find (make?) a wooden box (approx. A4 size, 100mm high or thereabouts) to store your tools. (plastic or cardboard box will do, but wooden one is more classy ;-)
TO DO: Order the basic tools.
If you wish, keep a logbook or a journal. Start a blog. And when your watch arrives, take a photo of it (for your "before" and "after" journal).
---
Workbench and lamp
I am not going to go into too much detail, but now is the time to set-up your workbench (or working area). Whether you decide to work on the kitchen table, computer desk or on a home-made bench, keep in mind that you don't want to move watch stuff around too much. Of course, a proper watchmakers bench would be ideal but this may be out of reach for most (except for US DIY members where a decent bench starts from as low as $350).
There could be, however, an immediate solution between a kitchen table and a profi bench:
a mini desk bench like this one (USD$ 113 on eBay).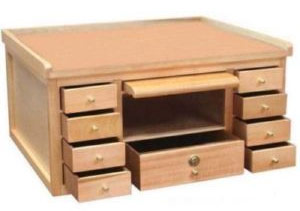 While I never had a need for this type of table bench I would most likely buy one if I'm a hobbyist. Great choice if you are space-limited.
IMPORTANT NOTE: Be extra careful when selecting a workbench! Not all jewelllers/watch benches are suitable for watch repairers! Actually most benches advertised are for jewellers, NOT for watchmakers.
What is the difference? You don't want the dust tray and definitely not a bench with a cutout in the middle!!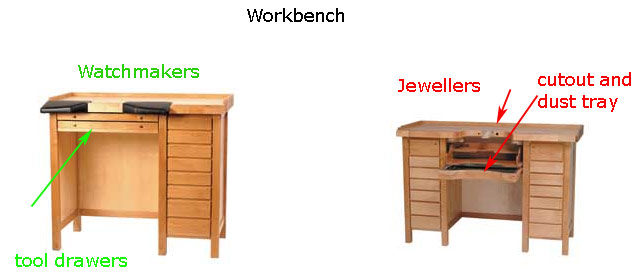 In case you wish to build your own bench: set the table height 95 cm from the floor and install a wooden railing around the sides / back, at least 3cm high to prevent parts and tools from rolling off the table. An arm rest is optional, but you will rest your elbows on the bench while working so the height of your chair should be adjustable. For most, a good height is around 45cm between the top of the bench and your knee (when sitting).
TIP: if you are lucky, you may be able to find a pre-owned bench on ebay and save heaps!
Good lighting is also essential. Do your research for a lamp (avoid baby-size lamps). I use this one http://www.officeworks.com.au/retail/products/Furniture/Lighting/Hobby-Lamps/NAT1020WE but a magnifier is not required. Look for a similar one on eBay for half the price if you wish to save.
---
Philips Screwdriver
A few DIY members reported difficulties removing the Philips head "screw B" 0016 705. Unfortunately there was little I could do to help - until a message was received from a fellow subscriber who managed to source an original Seiko screwdriver ! He contacted the Seiko Service Centre and was told that indeed, Seiko sells an appropriate screwdriver for this purpose! What a brilliant idea - I wish it was mine :-)
Now here is a word of warning: please DO NOT call Seiko to order the screwdriver! Here is how to do it: Order it from Seiver's Australia (Seiko agent)
To place your order, FAX your details (including credit card numbers) to (02) 9279 2274
Part number: Seiko S-921 screwdriver.
Price is $10.08 + GST.
Postage $5.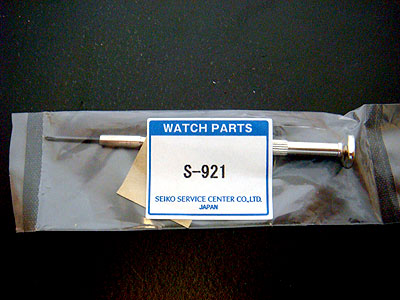 The current status is "on back order" which means you will receive your tool as soon as it is back in stock.
---
DIY Lubricants
A number of emails were received in regards to lubricants. First of all, you need to ask yourself: how far and deep am I going to get involved in this DIY project? If your only goal is to disassemble and re-assemble a NEW watch then you can probably get away without re-lubrication. OK I know- those of you who are professionals are now thinking what in the world is he talking about? But let me just point out a couple of details -
- lubricants are relatively expensive
- in order to apply oil correctly, you also need oilers and an oiling cup or an automatic oiler
- it is not really which lubricant but rather how to apply the lubricant properly ?
- lubricants cannot be applied without prior cleaning, therefore you need to allow / budget for a cleaning and rinsing solution and possibly for some additional tools as well.
Based on the above, you need to be fairly enthusiastic about DIY before placing an order for lubricants and associated tools.
However for those who intend to do the job properly, or work on a pre-owned watch, or intend to repair watches as hobby, you really have no choice.
To simplify things, I have decided to recommend only two movement lubricants:
- Moebius 8200 for mainspring and all 'heavy' stuff like levers etc
- Moebius 9010 for train wheels and escapement
This is obviously a compromise (and not a recommended oils by Seiko) however the difference between Swiss and Japanese lubricants will be negligible. Again, except for escapement, it is not what you use, but how you use it.
I have done a fair bit of research on lubricants and came to very definitive conclusion: DON'T BUY ONLINE! eBay prices are just as high — if not higher — than those from bricks and mortar watch parts suppliers!
Again, I had a chat with Jeff from Labanda and he is prepared to make a SPECIAL deal on lubricants: the 8200 for $19.50 and the 9010 for $24 plus GST. In addition, you also need a set of oilers ($8-10) plus one oiling cup (3 in one) $6.50.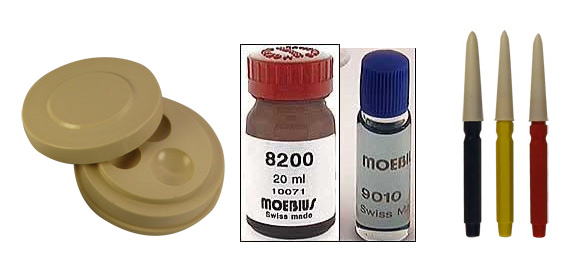 For those who are willing to invest in a high quality 'automatic' oiler I would recommend Bergeon 2718 1A "Black" for $109. This is a professional watchmaker's tool.
I believe that Jeff is preparing a DIY oiling kit so stay tuned for details.
Once again, his prices are unbeatable and if you are ready to order, take advantage of this offer!
For those of you who are into repairs and restoration, or work on pre-owned watch you would also need to order a silicon-based lubricant for rubber case seal and crown seal.
Silicon grease is TSF-451 or similar - basically any watch silicon grease will do.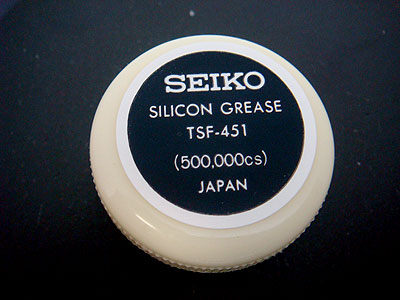 ---
UPDATE
Labanda has assembled a second kit called DIY KIT B containing lubricants, oil and other related tools. Click the image to download the order form (PDF file.)
---
By the way, we now have over 180 registered students with more still joining in! I haven't had a chance to individually greet each and everyone - but you are welcome and I do appreciate your interest.
FAQ from Chapter 1
Q: "I am confused - which movement should I get - 7S26A or 7S26B?"
A: Either is fine, there is only one minor difference in design which is at this stage irrelevant. You can also go for 7S36. We'll talk about differences later.
Don't forget: any emails you send MUST start with a subject line DIY or I won't receive them!
PS I got that feeling I missed ordering one or two of the basic tools, but we still have $20 in the kitty and plenty of time!