Chapter 3: Calibre, Reference and Serial Numbers
I do apologise for more frequent posts, but there is a bit of urgency to provide additional information regarding the DIY.
FAQ
Q: "Tools you've recommended are no longer available from the seller."
A: Find another seller. There is no shortage of tools on eBay.
Q: "Screwdriver sets are sold out. What is a good quality screwdriver set?"
A: Go for a set which contains at least sizes 60, 80, 100, 120, 140 and 200. Screwdrivers must have replaceable blades, should be color coded, have a knurled mid-section for good grip and come with a box or stand - either is fine. A set of extra blades would be nice too.
Q: "Tweezers are sold out."
A: Go back to Chapter 2 and follow the instructions. Alternatively go for size #2 non-magnetic, INOX. Straight shape. Pay more and buy Dumont.
Q: "Now that everyone is buying the same tools, prices are going up."
A: Do more research or just pay a dollar or two more. There is no shortage of tools!
Q: "Price of a new Seiko with 7S26 went from $50 to $90 over night! I can't afford one!"
A: Not true. What went up is the price of SNK639 because many opted for the same model. I've picked that one for no particular reason and there are many other models which are equally suitable. Search for "Seiko 5 Automatic", BUY IT NOW option then scroll to the cheapest new watch with free delivery - then LOOK for 7S26 or 7S36 movement in the DESCRIPTION (not title). You'll find at least a dozen listings around $60. Avoid models with an integrated bracelet.
Q: "I've blown my budget and I still need more tools!"
A: Good on ya mate, me too. Seriously, the $200 figure was just an estimate or a guide. You must set your PERSONAL budget limit. Keep in mind that a number of members in this DIY project are actually prepared to spend significantly more and have set a budget to $1,000- $2,000. And yes, there are a few of you who have no budget limit at all :-) The goal of this project is to LEARN and GAIN PRACTICAL SKILLS, not to set some imaginary record in either thriftiness or overindulgence.
Q: "Is it too late to join in, learn and have fun?"
A: Absolutely not, but you must start from Chapter 1.
Q: "Am I having a mid life crisis?"
A: No.
Calibre, reference and serial numbers
Since we are still waiting for the delivery of our Seikos, now is the time to talk about a very important subject: the watch numbers. Again, while we're focusing here on Seiko watches, there are similarities with other brands so please pay attention.
There are 4 lots of numbers which are important for proper identification.
1. The first number is the movement calibre.
This number can be found on the watch mechanism itself. Here, it is engraved on the rotor bridge: 6119 C. The letter after numbers indicates version (A, B, C etc) Calibre number is essential when ordering MOVEMENT parts.
2. The second number is dial reference number:
It is located ON THE WATCH DIAL underneath the 6 o'clock position. Very fine print, you need an eye glass to read it.

This one is 6119-6020S.

What does it mean?

During the watch production, each movement can be fitted with practically an unlimited number of dials. Black, white, silver, gold, different height, day/date or date only etc. And each dial would have corresponding calendar wheels and set of hands.

Therefore 6119-6020S means that dial set is 6020 S style (black dial, silver hands with luminous material, silver hour markers etc) and it is married to movement calibre 6119.

This number is essential for ordering dial parts.
3. Watch model reference number (red) is located on the case back.
Again, it starts with the calibre number followed by the case style number: 6119-6023

The case style describes the physical case properties:
steel, gold, gold plated, dimension, water resistance, type of winding crown, bracelet, crystal, bezel and many other external components. However some components are both movement and case related - like the stem.
4. The fourth number is the watch serial number (green). It is located on the case back (for solid metal backs) or printed on the glass (for see-through case backs). It is usually a 6 digit number.
My watch is no. 4D3410.

The first digit on the case back represents the LAST digit of manufacturing year decade.

If you know the decade of production (70s, 80s, 90s) then you can figure out when your watch was manufactured. The second number/letter is the month. 1=Jan 2=Feb etc 9=Sept 0= Oct *note this is 0 not letter O N=Nov and D=Dec

So my watch was produced in December ???4. As you can see, the number alone is not sufficient to determine the actuall age of the watch (unless you have a new-ish one) but based on the movement calibre and style, I would guess that most likely it was made in December 1974.

The rest of the digits present is actually the serial number 3410. It was a #3410 of reference [6119-6023] produced in month of December.

Finally the letter F (yellow) is country code - while the case back is stamped JAPAN the watch could still have been produced in Seiko's overseas factory.

Obviously, it is absolutely crucial to know the calibre, dial number and model reference number when referring to your watch or when ordering spare parts.

It is always a good idea to quote ALL numbers to your spare parts supplier: "I need [this part] for Seiko caliber 6119 C (note C!) dial number 6119-6020S and case number 6119-6023."
TO DO: Identify your Seiko
[ cal. number ] [dial number] [ model reference number] [serial number].
And from now on, please use only the model reference number in any correspondence :-)
I hope you like my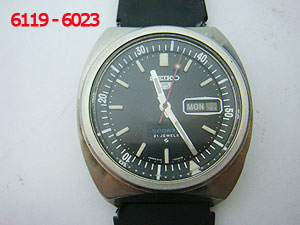 6119-6023 !
*Note: apart from the above, there is yet ANOTHER reference number which I call "sales catalogue" number. You've noticed that I referred to my new 7S26 Seiko as SNK639. This is the model number used for advertising, stocking, cataloguing and all other sales-related correspondence between Seiko, retailer and customer. It is printed on the BAR CODE LABEL attached to the bracelet. Unfortunately this number is irrelevant to spare parts suppliers and as you've already worked out - irrelevant to buyers looking for a particular movement calibre. It's really good for identifying the watch for sales-related matters only (catalogue page, price, eBay search etc).
Bracelet Adjustment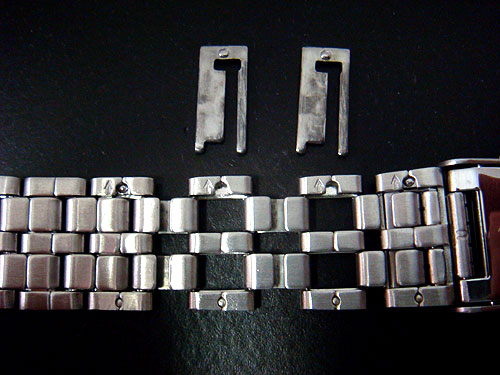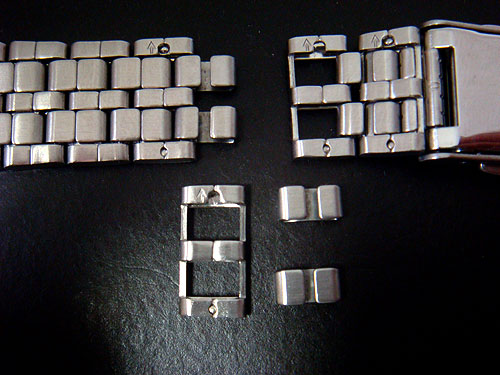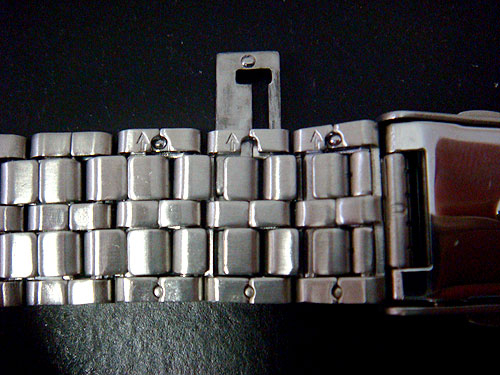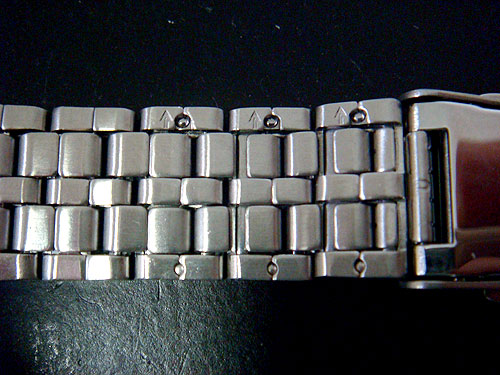 Once again, please put DIY in the subject line for all DIY related correspondences. Thank you. And YES - your feedback is always appreciated.