Wow! - what an enthusiastic bunch you are! On the last count, there were 116 "signmeupnow" emails.
Which means only one thing: WE'LL DO IT! The DIY online watch tutorial is now officially ON!
First things first. In order to have fun and learn something new, here are some basic rules:


Respect for the trade: the craft of watchmaking (and this goes the same for jewellery trade, diamond cutting, lock smiths and many other traditional trades) was always either a family business or a tightly controlled/regulated business. Outsiders were never welcome! "Trade secrets" are kept well. True "insider's" knowledge was never offered free of charge. The person who was transferring their knowledge to an apprentice was referred to as a master. A 10-year apprenticeship was common before gaining the privilege of calling yourself a watchmaker. Of course, times have changed since. However, having respect for the trade is as important today as it always was.

The choice of watch movement for the DIY project.

After weighing all the pros and cons, I have settled for the Seiko 7S26A movement as the movement we will be working on. I will get into the details next time.

Check you watch junk box - and dig up one or two! Of course for the majority of you the only option is to go online and buy one on ebay. There are quite a few of the Seiko watches with 7S26 available at any given time, so you should have no problem picking one. Price range is from $20 - $60 for standard models and a bit more for the diver's range.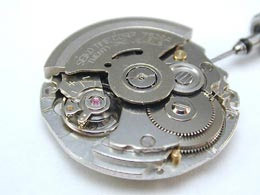 Tip: 7S26A is the official name for this Seiko calibre. However, most sellers refer to it as just 7S26. It is the same thing. Equally suitable for this project would be 7S26B or 7S36.
Which one to buy?
With so many watches featuring a 7S26 movement, it would be tricky to pick one without doing a bit of research. Like any other market place, this is what you will find on eBay:

Since your goal is to learn how the watch works, then the only appropriate stock would be "in working order". You are buying a complete watch! It must have the case, bracelet, dial, hands, and the lot. Box and papers are not important.
It MUST keep time.
It goes without saying: any incomplete or water damaged Seikos should not be on your shopping list.
My personal recommendation: if money is not an issue, go for a brand new one! That's what I just did - I've just bought a SNK639 fitted with 7S26 movement for $65.99 including free delivery. Why? Because I already have a bunch of incomplete movements which I can use for parts. It will be a very nervous couple of weeks now till the baby arrives!
You are now standing at a crossroads (the first one of many to come!).
Both options are equally attractive - joy of sourcing discontinued parts or joy of wrecking a perfectly new watch :-)
Should you decide to go for a preowned Seiko then you must engage yourself in conversation with the seller. Try to find an enthusiastic seller who is prompt to reply and answer all your questions. The time keeping bit is crucial - it MUST keep reasonably good time (up to +/- 15 seconds per day. There should be no cracks in the case or crystal, no water damage and no rattling noise! But finding an enthusiastic seller who is going to waste couple hours on you for the sake of a $20 sale is always challenging. Squeezing a dollar or two is a waste of time, but watch out for shipping costs and especially delivery time. You want your baby in less than 2-3 weeks!
Again there is so much to choose from so don't buy the first one you see.
Model reference number(s) on Seiko watches
Depending on the production date / year of manufacturing Seiko watches come with a few different model reference numbers.
For example, 7S26-0010 is model Ref 0010 fitted with 7S26A movement. My watch is also known as SNK639 which is another reference number. But the ref. number is really irrelevant. What I'm trying to say is as long as it is a 7S26 or 7S36, then you'll be fine.
Don't go for pre-1996 models like 7002, 7009 or even older 6119, 6023 etc. While those movements do look similar they are completely different and a DIY online tutorial will not be much good for you.
Also spare parts are incredibly difficult to source for those old models.
Read the title and description carefully and ask the seller to verify movement calibre- some sellers know less about their goods than you!
In case you insist to work on your own Seiko calibre then you can still follow DIY project but you won't be able to squeeze the most out of it.
Keep in mind one thing: there are hundreds of websites out there with beautiful photos of 7S26 but 98% of them are created by watch owners, not watchmakers. Even those 2% which are, are put up with the aim of explaining a certain feature or as an overview - not as a step by step DIY assembly tutorial! Therefore it is in your interest to be 'on the same page' with the rest of the group by working on the same calibre.
TO DO: buy a Seiko watch with working 7S26 movement. When the watch arrives in the mail, send me an email with the subject: DIY "I've got it!".
Have questions? Email me with subject line: DYO question.
TIP: don't overspend! The watch itself should be not more than 1/3 of your $200 budget which will include tools and the rest!
Next chapter:
More shopping: getting the right tools for the job!