Chapter 5: Automatic Winding - The Pump
As we are getting closer to disassembly of our watch mechanism, now is the perfect time to get familiar with a very basic concept of automatic (or self-winding) movement.
This quick tutorial is not specifically prepared for DIY members, but to all subscribers. It is very fundamental in its nature. Therefore if you are "into watches" but for some reason don't get it or don't care how your automatic watch winds itself, then you should really get yourself a quartz watch. There has to be a line which separates watch owners form watch collector and horology students - and this has to be it.
I am using a very familiar concept of how water gardening tanks work. The water is pumped in, stored in the tank and from there, it is distributed to water your garden.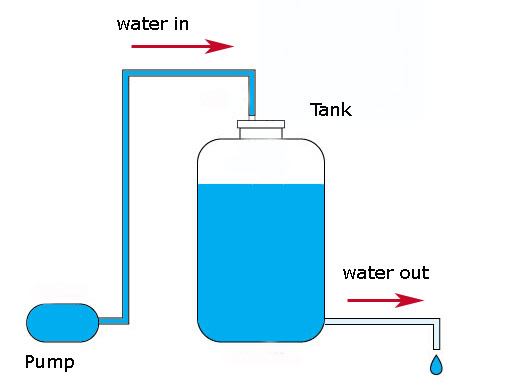 The storage of energy in self-winding automatic watches is very much the same. Auto unit pumps the energy into the spring and from there, energy is transported where it's needed. Note: the automatic unit is not generating energy (the water pump itself is not creating water!) It is merely receiving energy from your wrist movement and pumping it into the spring.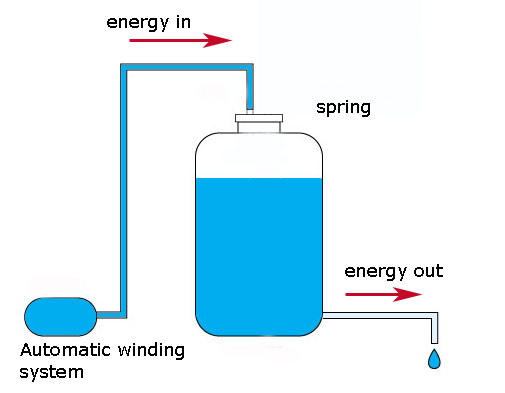 In the case of Seiko 7S26, it takes approx. 8 hours of "pumping" to fully charge the watch spring. After 8 hours of normal wear, the "tank is full" and we have reached maximum power reserve. Take the watch off the wrist (turn off the pump) and it will continue to run for 41 hours. (We are talking here about a movement in perfect working order, properly lubricated and adjusted, and with no wear or tear).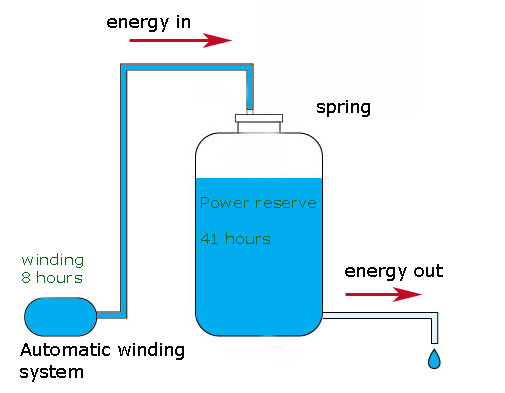 Let's say you are a jogger. Your pump will work harder and you'll pump it up in 2 hours. Or if you are sitting in front of the TV all day long, it may take 12 hours to fully wind the watch.
Seiko 7S26 can not be overwound and you cannot store more energy than 41 hours. Therefore you can wear it 24 hours per day and as long as it is on your wrist, the power reserve will stay on the maximum.
To put the things in perspective: your watch spring is a really very small tank, the pump is 'baby' size and thanks to friction, most of the water (energy) is wasted in that long hose.
If your watch stops overnight then you may have a problem with the pump, tank or hose - poor charge / poor storage / poor flow. But we talk about that later.
Finally, you may ask: how is the energy stored in the spring of a manual wind watch? Manual watches have no auto winding unit, they are wound manually. With a few turns of the winding stem (20-30), your tank is quickly filled with massive amounts of energy in just a few seconds. Think of it as a tank being filled with a fireman's hose - and you are the fireman :-)
Now that we got this simple concept out of our way we are ready for more serious stuff!