Restoration to 1953. Rolex Explorer Ref 6610
This is quite an interesting watch with both sentimental value to it's owner and rare collectors value as well. The Rolex service centre has refused to undertake any repair for reasons only known to them. Due to obvious reason I will not comment on their repair policy - but I can tell you that the owner was not very pleased with it.
Anyhow, the watch has arrived to our workshop in very poor condition with heavily corroded bracelet and movement, dial and hands as shown here: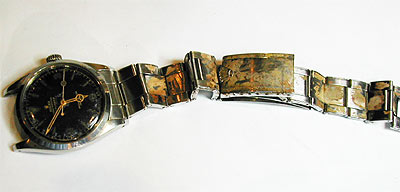 According to Antiquorum database, between 2002- 2005 only 4 sales of similar pieces are recorded. This particular model of Explorer is also known as "second generation 6610" featuring watch dial with 50m depth rating printed in gold.
Obviously we had no choice but to preserve this original (and possibly unique) dial however overcoming salt water damage was a true challenge.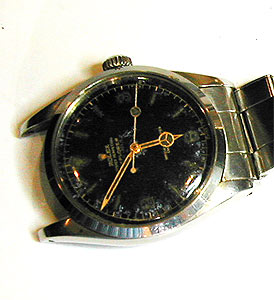 Restoration
complete overhaul and restoration of the movement , Rolex Cal 1030 Automatic. Time keeping rate is now +4 second per day;
dial restoration, removal of salt watermarks; 100% preservation of original gold print; restoration of original Mercedes hands with preservation of orig. luminous material;
hand repolishing of the case, case back, bezel and plexy glass;
repair to original Rolex 20mm riveted bracelet including manufacturing of new link springs, repair to clasp and mat surface refinishing of stainless steel bracelet
Estimated value $A6000- $A7000
Except for new set of lugs and new bracelet link springs the rest of the watch remains all original and authentic. The entire restoration process took approximately 12 hours. The true reward is in fact we managed to preserve and restore valuable timepiece described as "write off" , "too old" and "beyond repair".
Nichoalas Hacko , Master Watchmaker
MOSMAN
August 15, 2005.
nick@clockmaker.com.au